Winter Indoor Golf Instruction Begins January 20th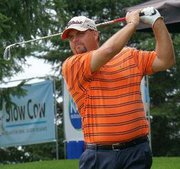 Join Landings Professionals Chris Barber and Matt McQuillan this winter, and get your golf game ready for the start of the 2020 season.  Our program provides golfers with Unlimited Practice and Instruction, in a fun and friendly environment that had yielded great results for participants in previous year.
For more information on the 2020WinterIndoorGolfProgram, please click here.
If you are interested, and have a few questions, please do not hesitate to give us a call at 613-634-7888, or send Chris an email at chris@thelandings.ca.